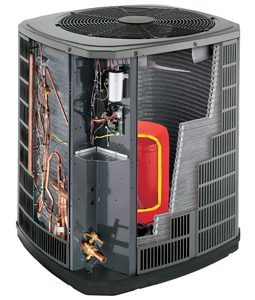 As a heater in the winter and an air conditioner in the summer, heat pumps keep your house's temperature just how you like it, and they do it efficiently. For ultimate flexibility, pair a heat pump with a furnace to create a hybrid comfort system for greater efficiency in all seasons.
If you are looking for an efficient, safe method of heating and cooling your Norfolk, Virginia Beach, or Chesapeake home, contact us for a free estimate on heat pump installation. We are a proud independent dealer of American Standard brand heat humps and can install your next unit easily and in no time, so your normal schedule isn't interrupted.
If you're in need of heat pump repair, make an appointment with us and we'll handle your home heating problems. Our team of HVAC mechanics have decades of experience in repairing most brands of heat pumps. Don't feel left out in the cold. Let us keep you comfortable all year long.
Norfolk Air Heating, Cooling, Plumbing & Electrical provides professional commercial and residential American Standard heating, air conditioning and plumbing services to customers in the cities of Virginia Beach, Chesapeake, Norfolk, Portsmouth, Suffolk, Newport News and Hampton in Hampton Roads. Call us today and ask about your FREE Estimate and our 24 hour emergency repair and service. Call today 757-963-8365.