Building managers and landlords with multiple residences rely on a solid heating system to keep their tenants comfortable when the temperature dips. Our commercial heating professionals can install or repair any brand of heating unit, and we provide 24/7 emergency service in Norfolk, Virginia Beach, and the Hampton Roads area. When you have people relying on you, count on us.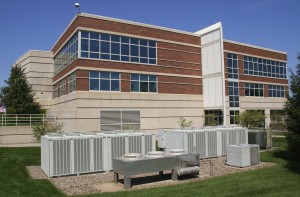 We are leaders in Norfolk, Chesapeake and Virginia Beach commercial HVAC installation, replacement, and repair. Whether you have a single unit building or a multi-unit tenement, we have the experience and credentials to handle the job.
Commercial Heating System Installation – Have a new commercial building in Norfolk? Norfolk Air can install the newest in commercial heating technology. We also specialize in replacement of existing heating systems for commercial properties.
Furnace, Heat Pumps & Boiler Repair/Replacement – For our Norfolk commercial customers in the historic districts – Ghent, Colonial Place, or anywhere else in Hampton Roads – who still rely on radiant boiler heat, Norfolk Air can repair your systems without compromising the structural integrity of your historic building.
Geothermal Heating Systems – Want to go green and stay warm while you save money? Ask us about installing an energy efficient heating system in your commercial building. Your HVAC can take advantage of the warm Virginia sun!
Heater Inspection – Concerned about carbon monoxide leaks, or that your heater's firing switches might not be working at full potential? Norfolk Air Heating, Cooling, Plumbing & Electrical can perform regular inspections to troubleshoot issues with your commercial HVAC system.
Contact us today at 757-963-8365 to learn more, and let the Norfolk heating system installation experts at Norfolk Air keep you warm this winter.
Norfolk Air Heating, Cooling, Plumbing & Electrical repairs and replaces furnaces, heat pumps and boilers for commercial heating customers in the cities of Virginia Beach, Chesapeake, Norfolk, Portsmouth, Suffolk, Newport News and Hampton in Hampton Roads. Call us today at 757-963-8365 for your free estimate or for 24 hour emergency repair and service.