Living in Norfolk is always a tossup where the weather is concerned. This winter has been exceptionally cold and our heating and air conditioning units have been working overtime. The beginning of April is when you will be seeing warmer temperatures, which means that you will also be switching the thermostats from heat to cool. Here are a few things you should do to check if the air conditioning system in your Norfolk home is ready before the heat of summer rolls in.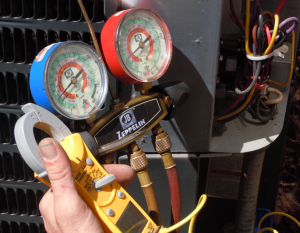 Check your air filters: Your air filter should be changed every 1-3 months depending on whether you use standard fiberglass or pleated filters. Changing the air filters is essential for those with allergies, especially during the pollen season.
Inspect your equipment: Living close to the coast can really have an effect on heating and air conditioning in Norfolk and surrounding areas. The salt air can cause rust and deterioration of the outside condensing unit, so it is a good idea to take a look at your air handler, duct work and the condenser. Look for standing water in your drain pans, cracks or leaks in your duct work and any debris that might have fallen in or around your outside unit.
Give you A/C a test run: Before the heat of summer sets in, it is a good idea to test out your AC. Briefly turn on your unit and let it run – that way if there and any problems you will hopefully catch them before the cooling season is in full swing.
Set up an appointment to have your Norfolk AC contractor check your system and prevent unnecessary expenses.
If you are looking for a professional Norfolk air conditioning service, repair, and installation company, consider contacting Norfolk Air Heating, Cooling & Plumbing. We serve the residents of Norfolk with quality air-cooling and heating services.
Please contact us for more information and to schedule an appointment today.