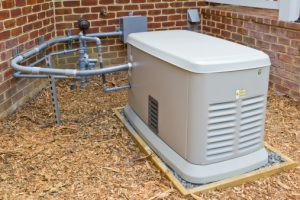 The weather is getting colder, which means it's time to check if your generator is ready for inclement weather. Here are a few helpful maintenance tips to keep your home generator functioning. Don't wait until the last minute, or you could end up regretting it when the snow falls.
Is it still working?
Check to see if the generator is still working by running it for 10-30 minutes every couple of weeks. This will alert you if there are any alarms or errors that need to be taken care of before it's actually time to use it. You don't want to risk your home generator not working when you need it.
Replace and refuel
Your home generator needs fresh oil, along with new filters and plugs. This will assure you and your family that your generator lasts. If you put it off or don't do it all, then it can shorten your generator's lifespan and cause it to become unreliable. Make sure the tank is filled with gas, too, just like your car. If it's not filled then it'll stop running.
Clear the area
The area around your home generator needs to be cleared of leaves and other debris. If you're in an area where your generator is constantly having to be cleaned off, then it might be a good investment to get a cover or enclosure for it. This will save you time and keep your generator clear from any debris that might disrupt it while running.
Don't be caught off guard by a broken generator if your power goes out, make sure it lasts. Proper maintenance will ensure that your generator keeps working, and you'll be notified if there are any issues before the time comes for it to have to be used.
For more information about installing a generator for your Norfolk home, contact Norfolk Air Heating, Cooling, Plumbing & Electrical at 757-963-8365 for your free estimate. We are an authorized Generac Generator dealer for Hampton Roads.