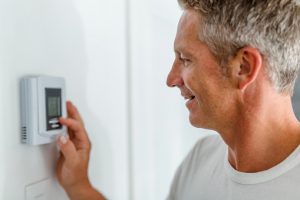 If you sense summer has come early to Hampton Roads, you may be ready to adjust the settings on your thermostat. Who wants to swelter at home, sitting in a room that feels hotter than it does outside? At Norfolk Air Heating, Cooling, Plumbing & Electrical, we are committed to helping Norfolk homeowners and businesses with indoor comfort. Now that warmer temperatures have returned, we know you'll want your AC to work when you need to cool down.
Ideally, your HVAC should work well without working too hard, and consequently costing you high energy bills. You want to get the most out of your air conditioning so you can relax at home or work without discomfort, so it's important to keep a few things in mind as spring turns into summer.
How low should you go? It's not uncommon for families or co-workers to disagree about setting room temperature. You adjust the thermostat, then somebody comes along minutes later to "fix" it. A good rule of thumb to consider is to keep room temperature on the higher end of the spectrum at a point where you are good with the air quality – anywhere from 76 to 78 degrees. If you have young children, however, you should keep the temps in their rooms a bit lower – around 65 to 70 degrees – to ensure they do not overheat.
When you know you will not be home for long periods of time, keep the temperature higher so you do not waste cool air. Investing in a programmable thermostat is one way to keep track of your home's HVAC so you don't have to remind yourself to adjust it at different times of the day.
Check your vents and filters. When your filters haven't been cleaned or replaced, and when your air vents are blocked, your HVAC may work harder than is necessary. You may think your home or business isn't cool enough, so you adjust the thermostat. This could end up taking more money than you need to pay in order to enjoy your surroundings.
When you know you intend to make more use of your AC, it's the perfect time to evaluate the condition of your vents and filters. Clean and replace where applicable, and make sure your vent louvers are positioned for optimal airflow.
Set up a spring maintenance check. We recommend periodic maintenance checks of your HVAC systems to avoid breakdowns or other issues, especially during storms or triple-digit heat waves. Our Blue Ribbon Protection Plan provides a 21-point inspection of your home system and is designed to spot issues before they evolve into expensive, major problems. Preventative maintenance gives you peace of mind and helps ensure that your AC works 24/7.
Stay cool when the heat rises this spring and summer. For more information on our protection plan and other air conditioning services, call Norfolk Air today.