When a plumbing disaster strikes, when you look around your home and realize you need to expand to accommodate your growing family, you'll look at your bank account and wonder how you'll get things done. You need an additional bathroom for your Norfolk, Virginia Beach, or Chesapeake home, or maybe the water heater has given out for good and it's time for a replacement. Do you wait until you have the cash? You can, but at Norfolk Air Heating, Cooling, HVAC, Plumbing & Electrical we want you to feel comfortable in your home now, and we can help.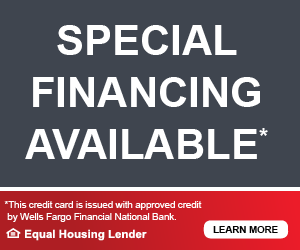 We are proud to offer financing options through Wells Fargo with approved credit. When you apply for financing and receive approval, we are on hand to service your plumbing, HVAC, and electrical needs. We know how you value the comfort and safety of your home, and you need everything working properly to keep your family happy. Don't feel you have to wait on an important repair or HVAC unit installation because of money woes. Contact us today with your HVAC, plumbing, or electrical needs and we'll be happy to assist you in finding the right financial solution.
Learn more about financing your next home repair or installation with Wells Fargo Bank, N.A.. Feel free to contact us at 757-963-8365 to learn more about how Norfolk Air Heating, Cooling, HVAC, Plumbing & Electrical can keep you comfortable year round with quality residential and commercial HVAC, plumbing, and electrical services. We're on hand for emergencies anytime, day or night.